Praise Chapel Community Church
Location: 
200 East Sixth Street  
Crandon, WI  54520  
(715) 478-7755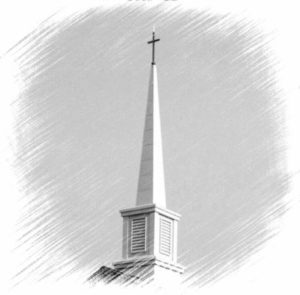 Who are we?  And what do we do in our church service?  We have a long history in Crandon (starting meetings in the 1930's).  It didn't take very long until a group of believers began meeting above a tailor shop.  The church grew and moved to "Woodman Hall" by the late 30's and by the early 40's made plans to build a church building.  They found out about a building that was being torn down in Crystal Falls, Michigan and they bought it for $650.  They brought the materials to Crandon and erected the building in 1945.
Someone would go to the church early on Sunday morning to fire up the little wood stove so the building would be warm for services.  The church was incorporated under the name, "Church of God of Crandon."  The church continued to prosper and decided to change the name of the church to "Praise Chapel Church of God" around 1960.  In the 70's the church wanted to be more community oriented and changed the name, once more, to "Praise Chapel Community Church" becoming an independent church with no denominational affiliation.  To this day, we are known as "Praise Chapel" in the community.
Our service is about one hour and 15 minutes long. We sing a mix of contemporary songs and traditional hymns. The pastor preaches from the Bible and encourages everyone to look up the Scriptures for themselves – giving page numbers for the pew Bible so people can find the references easily. We encourage you to bring your own Bible, if you have one, so that you become more comfortable using it throughout the                                                                  week when you are not here for Sunday service.
January of 2017, Franz Gerber was hired as an Associate Pastor, and then transitioned to the Lead Pastor in January of 2019. Pastor Franz's style is expository preaching, going verse by verse through a book of the Bible and on occasion doing a topical series.
All are welcome to attend any of our services and ministries – come as you are!
Service Times:
Sunday School – 9:00 AM
Sunday Worship – 10:00 AM  (There is a Nursery and Children's Church available)
Wednesday Bible Study – 6:30 PM
Other Activities:
Women's Bible Study – Mondays at 5:30pm (This ministry takes breaks in meeting between studies. Please contact us for more info.)
Men's Bible Study – Sundays at 6pm (This ministry take breaks in  meeting between studies. Please contact us for more info.)
Young Men's Group (6th-12th Grade) – Sundays at 6pm
Kid's Club – Wednesdays (during the School year) 3 – 4:45pm
H.C.Y. Youth Group – Wednesdays 6 p.m. (during the School year)
Middle School Youth Group – Wednesdays 6 p.m. (during the School year)
Food Pantry and Winter Coat Closet (for those in need).